Prof. MUDr. Václav Vojta (12. 7. 1917 – 12. 9. 2000) was a child neurologist, author of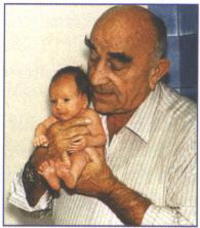 the reflex locomotion method (Vojta therapy). He worked as a doctor in Prague. In 1968 he emigrated into Germany, where he worked in Cologne and from 1975 in Munchen.
Vojta therapy – reflex locomotion
Vojta therapy is a diagnostic and therapeutic approach. It employs reflex locomotion; reflex movements are induced by the stimulation of certain zones. The stimulation activates central nervous system and causes the restoration and strenghtening of inborn physiological patterns. Vojta builds his diagnostic methods on a child's spontaneous movements, reflexes, and position tests (reactions to changes of position). Therapy is based on changes to the control of motion in CNS. The therapy induces work of specific muscles according to the movement patterns. These patterns are inborn but might not be active due to a variety of reasons. They can be activated through correct stimulation of specific points and zones on a patient's body.